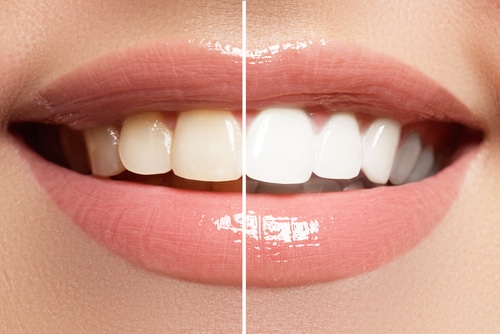 Want to have a brighter smile for the holidays? Our Dallas dental facility offers both in-office and at-home teeth whitening treatments so you can get the desired results. So if you are searching for Dallas Preston Commons teeth whitening, schedule a whitening consultation today!
A whiter smile is one of the first things people notice, and teeth whitening can give you a beautiful, natural look and help you feel more confident. And teeth whitening is one of the quickest and most cost-effective ways to do a smile makeover.
What is Teeth Whitening and How Does It Work?
Teeth whitening is a process of lightening the color of your teeth. We use a specialized dental whitening agent on your teeth to make your teeth a few shades lighter.
The main active ingredient in most teeth whitening products is hydrogen peroxide or carbamide peroxide. These substances work by breaking down into oxygen molecules and entering the pores of your teeth. The oxygen then reacts with the stained molecules, helping to break them down and making your teeth appear brighter and whiter.
Types of Teeth Whitening
We offer two primary Dallas Preston Commons teeth whitening types: in-office and at-home teeth whitening.
The Zoom! In-office teeth whitening system is a quick and effective way to achieve dramatic results. We perform the procedure in our office and use a potent whitening gel with a higher concentration of hydrogen peroxide than over-the-counter products. We also use a special light to accelerate the whitening process. In just one visit, you can achieve up to eight shades lighter results.
For patients who prefer to whiten their teeth at home, we offer custom-fitted bleaching trays and a potent whitening gel. The trays are made from impressions of your teeth, so they fit snugly and comfortably over your teeth. And the whitening gel contains a lower concentration of hydrogen peroxide, so it will take longer to see results. But with regular use, you can achieve dramatic results over time.
Risks and Side Effects of Teeth Whitening
Teeth whitening is a safe and effective way to achieve beautiful, white teeth. But like any dental procedure, there are some risks and side effects to be aware of.
The most common side effect of teeth whitening is tooth sensitivity. Sensitivity can occur when the whitening gel comes into contact with your gums or when the bleaching agents come into contact with your teeth. Tooth sensitivity is usually temporary and will go away within a few days.
Another common side effect is gum irritation. Gum irritation can occur when the whitening gel comes into contact with your gums. Gum irritation is also usually temporary and will go away within a few days.
How to Prepare for Teeth Whitening
Before you begin teeth whitening, you must have a dental checkup to ensure your teeth and gums are healthy. The checkup is crucial if you have gum disease, tooth decay, or other dental problems.
It's also essential to remove any tartar or plaque from your teeth before you begin whitening. You can do this by brushing and flossing regularly or by getting professional teeth cleaning.
You must talk to Dr. Moseley before you begin whitening if you have dental work, such as crowns, bridges, or veneers. The whitening gel can't lighten these types of dental work.
Dallas Preston Commons Teeth Whitening
You deserve to have a dazzling smile for all your holiday photos this year and a beautiful white smile that will make you look and feel your best. Let us help you achieve your dream smile with our teeth whitening services in Dallas, Texas.
Contact us today to schedule an appointment for teeth whitening! Dr. Justin Moseley would look forward to meeting you and working on that smile!
Welcome to Preston Commons Dental Care!