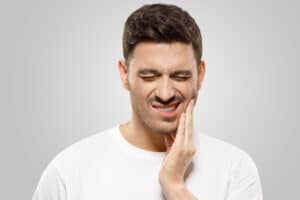 If you believe that you are experiencing a dental emergency in Dallas, TX, please come in and see us! At Preston Commons Dental Care, we are here to help you with any dental problems that you may come across. 
What Qualifies as an Emergency?
Common dental emergencies that may qualify include a knocked-out tooth, cracked or broken teeth, severe pain, abscesses, or bleeding from the mouth. Anything that you are concerned about could be an emergency, and we urge you to come to our office for a visit.
Cracked or Chipped Tooth: A cracked or chipped tooth daily can bring severe pain depending on the tooth damage, and it is vital to see Dr. Moseley as soon as possible. With cracked teeth, the possibility of that tooth starting to decay is high, but there are options to help save your tooth.
Tooth Knocked Out: A knocked-out tooth can be a scary experience, but don't panic – we are here to help! If your tooth has been knocked out of its socket, it is imperative to contact us immediately! This is a very severe emergency, but with the proper care and attention, it's possible to save and even re-implant the tooth.
Severe Tooth Pain: If you have suddenly started experiencing extreme tooth pain, this indicates that your tooth could have a cavity or something more extreme. Taking care of a cavity early on can prevent the decay from spreading and helps salvage the tooth. Not only will stopping the spread of decay help but attacking the problem fast will also eliminate the time you are in pain. It is crucial to contact us so we can get you in right away!
Abscesses:
Abscesses are one of the most painful conditions that can occur in your mouth, and as your trusted dental office, we want to make sure we can help you manage this discomfort. These infections form when an area in your mouth becomes filled with pus, causing swelling and inflammation. Common signs of an abscess include severe toothaches, bad breath, and sensitivity to hot and cold temperatures. So if you're experiencing any of these symptoms, don't hesitate to make an appointment and let us restore your oral health! Not to worry, though. We've got you covered with various treatment options to help ease your pain and mend the infection.
Bleeding From the Mouth:
As a dental office, we understand that any bleeding from the mouth can be concerning. Whether it's a result of injury or a dental issue, addressing the problem as soon as possible is essential. Bleeding gums may be a sign of gum disease or inflammation, which can lead to tooth loss if left untreated. Sometimes, bleeding from the mouth can be caused by a dental emergency, such as a broken tooth or oral injury. Whatever the cause, our team is here to help diagnose the issue and provide the proper treatment to help you heal quickly and efficiently. Your oral health is our top priority, so don't hesitate to schedule an appointment with us if you are experiencing bleeding from your mouth.
How Can We Help?
At Preston Commons Dental Care, our team of experienced and caring dentists can provide a variety of treatments for dental emergencies. We understand that these issues can be scary, so we strive to provide our patients with a comfortable and calming experience. We offer treatments such as fillings, crowns, and extractions.
Emergency Dentist in Dallas, TX
We prioritize giving you the best dental care available at Preston Commons Dental Care. Our dentist and staff are highly trained and capable of performing the procedures necessary to help your teeth! In an emergency, we will do everything we can to help you feel better and restore your teeth.
If you are in the Dallas, Texas, area and are in need of an emergency dentist, please get in touch with us! We are here and ready to help!