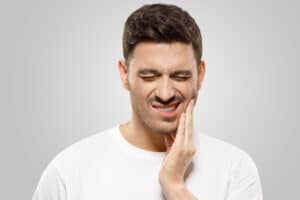 If you believe that you could be experiencing a dental emergency in Dallas, TX, please don't hesitate to come in and see us! At Preston Commons Dental Care, we are here to help you with any dental problems that you may come across.
What Qualifies as an Emergency?
Severe Tooth Pain: If you have suddenly started experiencing extreme tooth pain this indicates that your tooth could have a cavity or something more extreme. It is important to contact us so we can get you in right away! Taking care of a cavity early on can prevent the decay from spreading and helps salvage the tooth. Not only will stopping the spread of decay help but attacking the problem fast will also eliminate the time you are in pain.
Cracked or Chipped: One can crack or even chip a tooth in everyday life. This can bring some serious pain depending on the tooth damaged and it is severely important to come to see the dentist as soon as you can. With cracked teeth, the possibility of that tooth accumulating decay is high. There are options to help save your tooth by coming in as quickly as it happens.
Tooth Knocked Out: If your tooth has been knocked out of its socket it is really important to contact us immediately! This is a very severe emergency where the dentist can save your tooth.
If you are experiencing pain in your teeth or gums it is important to come in to see us fix the problem!
Emergency Dental Care in Dallas, TX
Here at Preston Commons Dental Care, it is our priority to give you the best dental care available. In the event of an emergency, we will do everything we can to help you get feeling better and to restore your teeth. In more extreme emergencies, some surgeries may need to be performed to salvage the tooth. Our dentist and staff are highly trained and capable of performing the procedures necessary to help your teeth!
If you are in the Dallas, Texas area and are in need of an emergency dentist, please come by and see us! We are here and ready to help anyone with their dental emergencies, please give us a call if you have any questions!