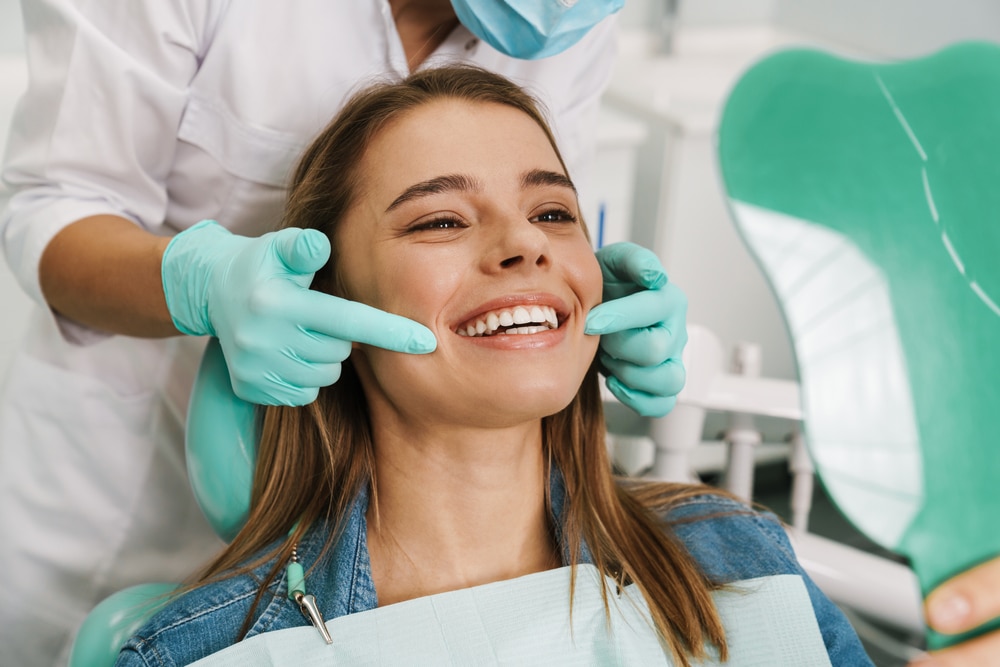 Do you have a "problem" tooth or two? Our Dallas Preston Commons dental bonding service is a fantastic way to fix many abnormalities or characteristics in your smile. 
You no longer have to feel self-conscious about that chipped tooth, stained tooth, or gapped tooth. We can help at our state-of-the-art dental facility in Dallas, Texas. And you don't even have to go through surgery! Come to Preston Commons Dental Care, and let us show you what we can do for your smile.
What is Dental Bonding, and What Can it Be Used to Correct?
Dental bonding is when a tooth-colored resin is applied to the tooth's surface and hardened using a special light. We can use bonding to improve the appearance of a tooth that is chipped, cracked, discolored, or misshapen. We can also use it to close gaps between teeth or make them look longer.
Bonding is usually done in one visit to the dentist and does not require anesthesia. It is not as strong as other dental procedures, such as veneers or crowns, and it may not last as long. But it generally is one of the least expensive cosmetic dental procedures. 
We can also use dental bonding to protect exposed root surfaces or to change teeth' shape or color. If you are considering dental bonding, talk to us about whether it is the right option.
The Process of Dental Bonding
Like many dental procedures, the dental bonding process begins with a consultation. We'll ask you some questions about your cosmetic dental goals and provide answers to any of your questions. We will start the process when you are comfortable in the dentist's chair and ready.
First, Dr. Moseley and his team will choose a shade of resin that matches your natural teeth. Then, the tooth will be roughened so that the resin will adhere to it. Next, we will apply the resin to the tooth and shape it into the desired form. Finally, the resin will be hardened using a special light.
Once the bonding is complete, you can see the results immediately.
How Long Dental Bonding Lasts
Dental bonding can last anywhere from three to ten years before it needs to be touched up or replaced. The lifespan of your dental bonding will depend on how well you take care of your teeth and gums and your personal habits.
For example, if you grind your teeth at night or chew on hard objects, your bonding may not last as long. Also, if you smoke or drink coffee or tea, the staining can shorten the lifespan of your dental bonding.
The best way to care for your dental bonding is to brush twice daily and floss once daily. It would help if you also visited the dentist regularly for checkups and cleanings.
How Much Does Dental Bonding Cost?
The cost of dental bonding can vary. The cost can depend on things like the number of teeth we need to treat and the complexity of the procedure. Generally, dental bonding is less expensive than other cosmetic dental procedures such as veneers or crowns.
What Are the Risks Associated With Dental Bonding?
Dental bonding is a safe procedure with few risks. The most common risk is that the bonding material may not adhere to the tooth correctly and can become loose.
If you are considering dental bonding, talk to us about any concerns that you may have. We will be happy to answer your questions and help you decide if dental bonding is the right choice for you.
Dallas Preston Commons Dental Bonding
We want you to have the best smile possible. Preston Commons Dental Care can help make your smile look natural and beautiful.
Dental bonding gives you a smile you've always wanted in just one visit. You won't believe the difference cosmetic bonding can make, and you will love your smile when you leave our office!
Contact us today for a cosmetic bonding consultation with Dr. Justin Moseley.