There is no denying that dental fillings are one of the most popular dental services today. If you have a cavity, your dentist will need to get rid of the portion of the tooth that is decayed. After this, they will fill this area where the decayed material was removed. This is the filling process. It is a simple yet effective procedure. Fillings can also be used to repair broken or cracked teeth that have been worn down as a consequence of misuse. You can read on to find out more about this service and please do not hesitate to get in touch if you need dental fillings in Dallas, Texas. 
What are the benefits of dental fillings?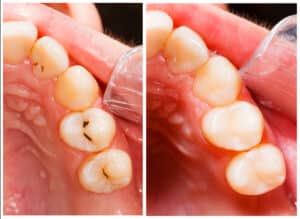 There are a number of different benefits that are associated with dental fillings. The main reason why people go down this route is so that the progression of decay can be halted by repairing a tooth that has became damaged, ensuring the normal appearance and function are restored. Dental fillings are beneficial because they will fix small areas of decay, ensuring further deterioration does not occur by creating an effective barrier against damaging bacteria.
The benefits do not end there when it comes to dental fillings. A further advantage is that while your dentist is going to be replacing the part of the tooth that has become damaged, most of the structure of the tooth will be preserved. This is also one of the most simple and straightforward dental treatments. It can be carried out in just one visit. Plus, it tends to be one of the more affordable treatments, so it certainly makes sense to get in touch with your dentist as soon as you feel you may need a filling, as this can prevent further decay and more extensive treatment.
Composite fillings vs amalgam fillings
There are a number of different options when it comes to fillings. Amalgam fillings are silver, and they consist of a mixture of copper, tin, mercury, and silver. Approximately half of the compound is made up of mercury. There are then other metals that are bound to ensure durability and strength. On the other hand, composite fillings, which are tooth-colored or white fillings, which are created from a plastic and ceramic compound and they appear more like natural teeth. Most people choose these fillings, especially for the front teeth.
Contact us today if you would like to book an appointment for dental fillings
Should you be searching for a dentist in Dallas, Texas, that provides dental fillings, look no further than Preston Commons Dental Care. We have a great reputation in the industry, and we can provide you with the dental services you require. All you need to do is give our experienced and friendly team a call, and we can answer your questions and/or get you booked in for an appointment. We know that a lot of people feel nervous about visiting a dentist, but we will do everything in our power to put you at ease.