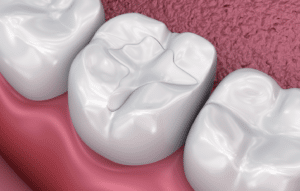 Looking for a Restorative Dentistry in Dallas, TX? Restoring your teeth that have problems or that have been missing is one of the best things you can do for your smile. Preston Commons Dental Care's staff and dentist are completely dedicated to helping you get the smile you've always dreamed of. There are many restorative procedures available in Dallas that can help complete your smile with strong teeth.
Why Restore My Teeth?
Restorative Dentistry for our teeth is so important in our everyday activities and our health. Having cavities can cause constant tooth pain and discomfort. If left untouched, a cavity can spread causing serious damage and possibly the loss of a tooth.
Missing teeth can affect one's confidence in their appearance, taking the steps necessary to have a complete smile can build that confidence.
Tooth Decay
If you have tooth damage due to tooth decay, there are a few options that could be helpful. Dental fillings are perhaps the most common solution. The dentist will clean the affected area and then fill in the missing pieces with a strong and reliable material that will help restore the integrity and strength of your tooth.
The material you choose for your dental filling will depend on your dental goals. Some options are tooth-colored while others look more gold or silver. You get to make the decision of what kind of filling you want. They vary in price and appearance but all are a great and long-lasting option for your smile.
Dental veneers are another way to repair tooth decay and cover the damaged tooth. Veneers are very thin shells made of porcelain or composite materials and are placed directly onto your natural teeth. They are one of the fastest ways to transform your smile. Inlays and Onlays are another way to improve the look and function of a set of decaying teeth.
Tooth Loss
If you are missing one or more teeth, there are many ways to help fix the problem. A common solution is dental implants. These are false teeth that can be placed directly into your jaw bone, giving you both the look and the function of natural teeth. They also help prevent bone loss and facial sagging. To get dental implants it requires a short cosmetic dental procedure but the recovery time is relatively quick and you'll be back to life as normal in no time at all!
Restorative Dentistry Procedures in Dallas,TX
Fillings
Getting your cavities filled is the most common restorative procedure that is done. Having cavities and not getting them taken care of can cause severe pain and can increase the amount of decay, making it harder to restore. After discovering a cavity it is best to get a filling right away.
Learn more.
Implant Restoration
The dental implant itself is made up of two different pieces; the placement of the metal stud that holds the tooth, and the placement of the porcelain tooth. Having an implant helps the health of the jaw bone and keeps other surrounding teeth healthy. If you are missing two or more teeth in a row, other options could be better than an implant.
Crowns and Bridges
If a cavity is left alone for too long, it might be impossible to salvage the whole tooth when trying to restore it. After the decay is eliminated a portion of the tooth is left as an anchor placement for the dental crown. The crown is a custom made ceramic or porcelain tooth that resembles your original tooth and is placed on the anchor forming a new tooth. Crowns are used to improve your tooth's shape and strengthen your teeth. Most often used for teeth that are broken or worn, crowns act as a "cap" that is cemented around the tooth.
If you are missing teeth, even a few teeth in a row, a dental bridge is for you! Dental bridges are a row of one or more ceramic or porcelain teeth that are made to fill in the gaps of your smile. The way that they are placed is by clasping the row of teeth to the surrounding anchor teeth. Bridges look extremely natural and help complete a smile. They also help maintain the shape of your face and alleviate stress on your bite.
Dentures
Simply put, dentures are artificial teeth and gums. They are created by your dentist and formed to your mouth in order to replace lost or removed natural teeth. They can either be full or partial. This means that they will either replace all of your teeth on either the top or bottom gum line, or they will just replace a few teeth that are missing.
Root Canal Therapy
If you have suffered from a cavity that has infected most of the inner parts of the tooth, regularly known as the pulp which holds the nerve, you might require a root canal. During the root canal procedure, the dentist has to remove the pulp entirely to clean out the infection.
Learn more.
Come Visit Us
If you require a restorative dentistry procedure in Dallas, TX, come in to see us! Preston Commons Dental Care is here to help in any way that we can in helping your beautiful smile stay healthy and strong.