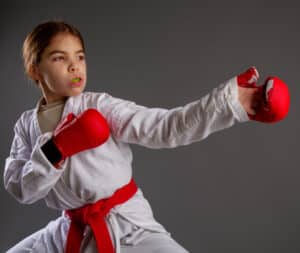 Sports fans and players know that their favorite pursuits come with risks; players end up on the sidelines and retiring through a range of injuries, and for many others there is a concern that the impacts their bodies have sustained will lead to them requiring assistance in later life. One area where this impact is often underestimated is in the mouth, where a history of falls, collisions, and on occasion high-speed projectiles can take a heavy toll.
In many of the most high-impact sports, then, it is little surprise to learn that from school teams to the top level of the pro leagues there is a need for athletic mouth guards. These protective items, usually made from a pliable compound material, are designed to sit around the teeth and gums and absorb the worst of any impact that affects the mouth. Football players, boxers and even jockeys are among the sports players that need mouth guards – and as we will see, the devices play a very important part in safely playing a range of sports.
Of all the facial injuries that take place in amateur sports, the most common are dental injuries, and in many of the cases where such an injury takes place, the injured party is not wearing a mouth guard. In a sport like football, where tackling involves two bodies crashing together, the chance for head collisions is obvious. In lacrosse, where sticks and balls can be swishing through the air at head height, there is always going to be a risk of being struck in the mouth. As for boxing, the risks there don't really need to be elaborated upon.
By wearing athletic mouth guards, amateur and professional sports players alike can be ready for the worst when it comes to facial impact. Being struck in the mouth is never going to be pleasant, but when your lips are the only thing between the projectile and your teeth, the chance for dental disasters is increased. Athletic mouth guards cushion the impact, spread it away from your teeth, and allow you to play sports without the same risk level.
It is possible to buy mouth protectors off the shelf in a sporting goods store, but dentists advise against their use; they can make breathing difficult, are not well-fitted and can even make things worse. At best they provide token protection. Boil-and-bite mouth guards, which are softened in boiling water and then shaped around the teeth, are better but not ideal. Visiting Preston Commons Dental Care, your local Dallas, Texas dentist, to have a custom mouth guard made is likely to be your best option. Dr. Moseley will take an impression of your teeth, make a model, and then send this to a lab where athletic mouth guards are constructed using custom-designed materials.
When they are properly fitted to your mouth and teeth, athletic mouth guards sit around the area they are designed to protect, they do not distract you from playing the game you're there to play, and they deflect impacts away from your teeth in a way that no other item can. If you are intending to play high-impact sport, from the lowest level to the highest professional echelons, then you should make a point of sourcing the best mouth guard.