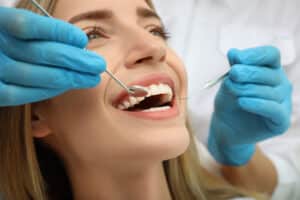 At Preston Commons Dental Care, we encourage the residents of Dallas, Texas, to seek treatment and oral care from our dentist before dental issues arise. Dr. Justin Moseley and our team are strong advocates for preventative dentistry. 
Preventative dentistry is a series of different dental procedures and treatments that all help patients do one thing, prevent dental decay. Doing what you can to help prevent dental decay from forming will help your teeth remain healthy and save you from needed and extensive restorative dental work. Please continue reading to learn more about preventative dental care and what we suggest you prevent tooth damage. 
What can I be doing to prevent tooth and oral damage? 
At-Home Oral Hygiene: To have and maintain a healthy smile, each person needs to be performing oral health care at home daily. The ADA (American Dental Association) recommends that each person takes the time to brush and floss their teeth twice a day. Each morning and night, brushing and flossing will remove the plaque buildup on teeth and any remaining particles of food. Both of these are top causes of dental decay. 
Routine In-Office Care: Along with brushing and flossing twice a day, it is essential to be seeing your dentist regularly. The standard times a person is to see their dentist for a cleaning and examination is twice a year. At each cleaning appointment, teeth will be polished, and any hardened plaque will be removed. Once thoroughly cleaned, Dr. Moseley will come and examine your teeth for any decay or abnormalities. 
Restorative Care: During your oral examination, if you have any cavities, we suggest you receive restorative care as soon as possible. When cavities or other dental damage aren't removed and restored quickly, decay can grow and cause more severe damage. With more decay, more extensive restorative work will be needed later on. Receiving care as soon as possible prevents more issues from occurring. 
Extra Treatments: At Preston Commons Dental Care, we offer additional dental sealants and fluoride treatments to help protect the teeth from possible decay. We encourage each of our patients to take advantage of these treatments. 
Oral Hygiene Tips
Our teeth allow us to do more than we realize, including chewing, speaking correctly, and smiling. We all must do what we can to take care of our teeth and keep them healthy. In our Dallas, Texas, office, we are always offering our patients tips on best-taking care of their teeth while at home. Some common tips we give include: 
Try limiting your consumption of substances and beverages that will stain and discolor your teeth. Discoloring can be caused by wine, coffee, smoking, and chewing tobacco. 
Sticky and sugary foods, when consumed, leave residue on the teeth called plaque. Sugar is what feeds decay and helps it develop and spread. Be aware of your sugar intake, and always be sure to brush your teeth as soon as possible. 
Stay in touch with your dentist. When staying on top of your routine dental cleanings and exams, your oral health will significantly improve, and at each visit, we will be able to answer any questions you may have. 
Make brushing and flossing your teeth a part of your morning and nightly routine. Having it as a part of your routine will make you less likely to forget to clean your teeth. 
Call Preston Commons Dental Care 
Preventing tooth damage and decay is very simple and essential for long-lasting and healthy teeth. For questions on how preventative dentistry can help keep your smile healthy, please call our Dallas, Texas office. We look forward to serving you.